June 11, 2012
By Nick Maizlin
When Apple creates devices, it strives to achieve two main things that don't necessarily go hand in hand - speed and thinness (perhaps with the exception of the new iPad). And so Apple has now released the next-gen MacBook Pro, a speed demon packed in a very compact casing. In fact, it may not be such a stretch as to compare the new Pro to the Air, seeing as Apple chose to remove the optical drive. On the other hand, consumers are treated with the excellent Retina display, a quad-core i7 processor and an Nvidia GeForce 650M GPU. The rest is Apple standard, with 768GB of flash storage, HDMI, SD card slot, dual microphones and Thunderbolt ports as well as USB 3.0, a standard 3.5mm headphone jack and MagSafe 2. This MacBook is said to last you a good 7 hours.
The new MacBook is now on sale for - $2,199 for a quad-core i7 clocked at 2.3GHz, 8GB or RAM and 256GB of storage. Let's get the show rock and rolling!
Read more for some more spectacular pictures.
Source: Apple
May 31, 2012
By Nick Maizlin
Today, slightly ahead of the schedule, Microsoft decided to let loose their final Windows 8 Preview. Initially the preview was supposed to come out on the first week of June, but hey, the earlier the better, right? This release preview, although not final, offers more features and builds on the issues of the previous version.
            But as to when the final product will come out, we do not yet have a solid answer. However, it has been reported that Microsoft is possibly looking at an October release date, the same month in which the retail Windows 7 has been released. And for those of who feel the Release Preview feels too much like the finished thing, do not fear, as Microsoft had said that there will still be surprises in store for us. So until the final build of the operating system will come out, you can occupy the time by fiddling around with the Release Preview, which has way more to offer than the consumer preview. 
Source: Building Windows 8
May 24, 2012
By Nick Maizlin (@GhostProShark)
One of RIM's major players is BlackBerry Messenger, otherwise known as BBM. The messenger is used by many everyday for easy accessibility, free and speedy messaging as well as for its security. Previously, it has been reported that RIM was trying to license the service to other manufacturers in an initiative called 'SMS 2.0'. Curiously, it was not to generate revenue but to battle against third party apps like WhatsApp and Kik Messenger. There were rumours that BBM would arrive on iOS or Android but so far nothing happened. The closest that happened was the Android market for the BlackBerry PlayBook. After RIM co-CEO's Mike Lazaridis and Jim Balsillie decided to leave, Thorsten Heins stopped the BBM licensing attempt. So now it looks like BBM on other platforms other than the developers own may not come true. But while the porting of BBM has been abandoned. Heins seems interested in licensing BlackBerry OS 10 to others. 
VIA: MobileSyrup
Source: WSJ
May 23, 2012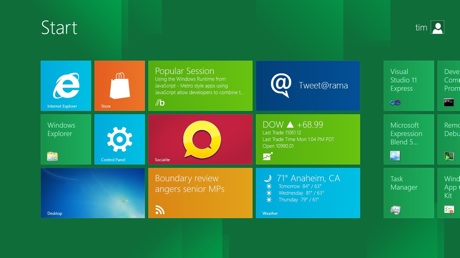 By Nick Maizlin (@GhostProShark)
Microsoft has been one of the companies that constantly kept pushing the envelope in what can be done to make something work faster. And so, they decided to announce that the upcoming Windows 8 boots too fast. In fact, the boot time has been cut down to a staggering 7 seconds. Of course, if you regularly turn your computer off and want to get quick and immediate access, it's no problem. But the thing is, it does not allow users to interrupt the boot process to load up setup. Instead of having to press F8 while the computer boots and then pressing F2 to access the setup, users are left with 200ms margin to accomplish that task, says Chris Clark, program manager for the user experience team. To make up for it, Microsoft came up with 3 different solutions. One is to put all the different options into a single boot options menu such as the troubleshooting tools and developer options and startup menus. This menu will come up wherever something prohibits the computer from fully booting Windows. And if there is nothing wrong with Windows or the boot, Microsoft will provide you with various ways to pull all the options up after the boot. So if you want to change anything – BIOS or boot settings – you will have to do so after the system is loaded and ready to go. Clark also adds that the 'legacy hardware that was made before Windows 8 will not have these new UEFI-provided menu features (booting to firmware settings and booting directly to a device).'  However, the firmware on the older devices will still be able to support this functionality from the POST screen. 
If you still don't believe a computer can load in that amount of time check out the video below
Source: Building Windows 8
May 1, 2012
By Nick Maizlin (@GhostProShark)
Finally, RIM decided to give us a peek, if a brief one, at the new platform based on QNX, BlackBerry 10. Presenting a device that vaguely resembles the current iPhone (and confirms previous rumours), RIM has decided to go all touch. Gone are the keyboards that current BB phones are known for (although they may be added later). Taking cues from SwiftKey RIM has made a touchscreen keyboard that actually predicts what you are going to type. Although this is nothing original, when pressing a letter, you can simply flick up to select the word, allowing you to theoretically type sentences with barely a keypress. Apart from that, a function has been added that allows you to swipe back on the delete button to delete entire sentences.
The homescreen has also had some changes. Now borrowing from Windows Phone, there are square icons for you to select as well as a camera, call and search icons on the bottom. RIM is also focusing on 'flow', allowing you to seamlessly switch between applications that remain running in the background. You can slide your finger from the right to peek at notifications or fully slide it over and switch apps.
Finally, the camera seemed to have been tuned, with you being able to go back through a timeline before you took the picture in case the subject blinked during the photo taking process.
So what do you think? A major overhaul has been executed by RIM, with the OS looking unique, the features crafty as well as a load of apps to be coming our way soon. Honestly, it looks like a true competitor to current iOS and Android phones although it's too early to say anything yet. Stay tuned for future updates.